Community Development Action Hertfordshire
Services and Suppliers Information
---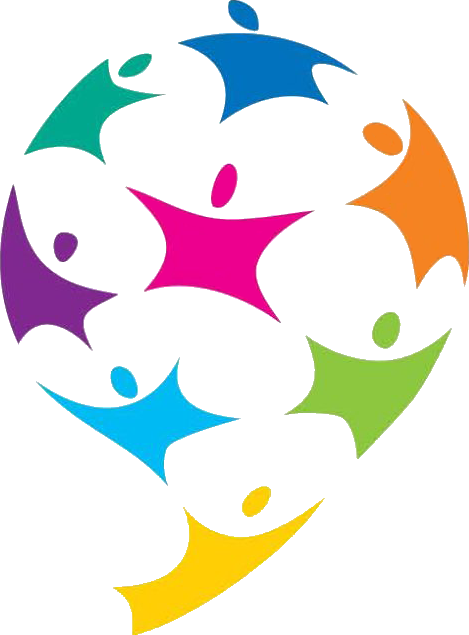 The following items are for information only. CDA Herts does not recommend or endorse any of the suppliers or services featured and accepts no liability or responsibility for any unforeseen outcomes or problems
---
Electrical Safety
The Electricity at Work Regulations 1989
These require that all electrical systems and equipment are installed and maintained in a safe condition Installations and equipment should be professionally checked on a regular basis (at least every five years).
---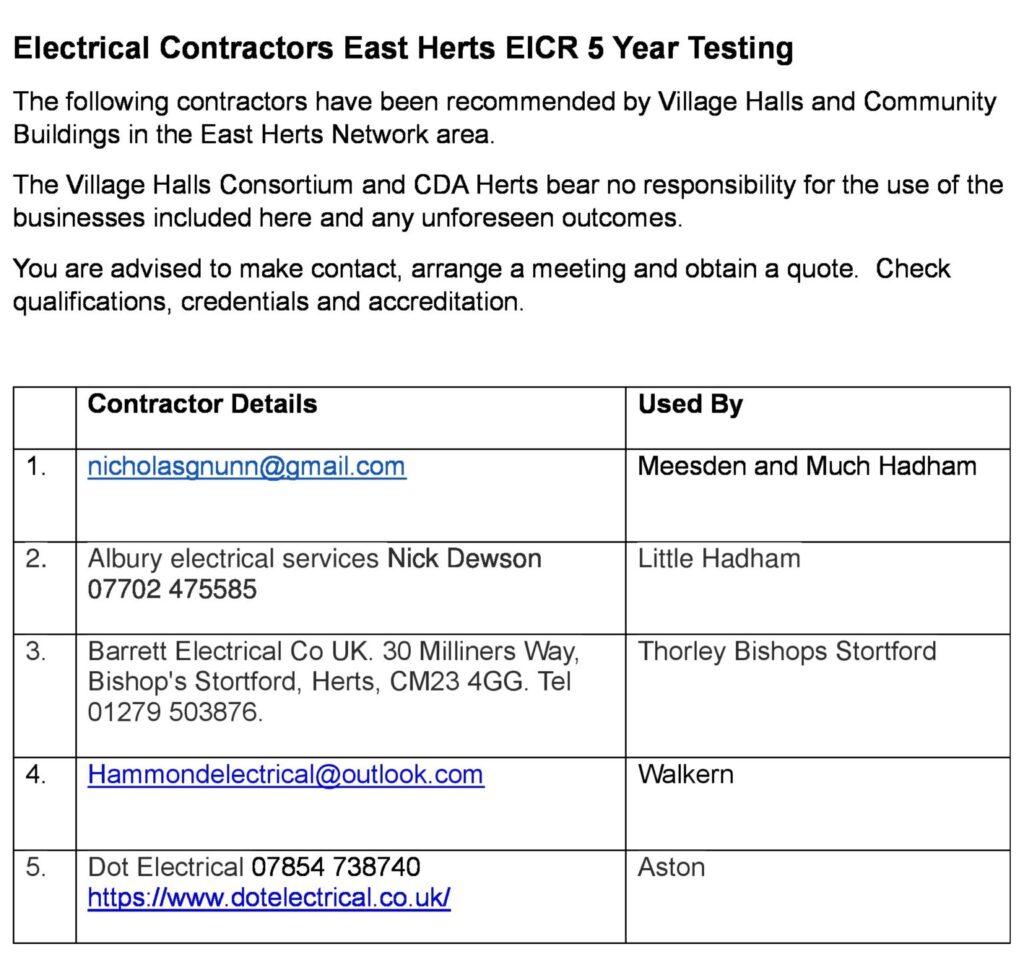 Village Halls and VAT
On 17th May 2022 ACRE broadcasted a Video about Village Halls and VAT presented by Les Howard of VAT Advice who are Charity VAT Advisors.
Please contact tim.hayward-smith@cdaherts.org.uk to be sent a copy which is just over an hour long and too large to post on our website here.
---
Active East Herts
We can help increase footfall in your village or community hall by putting on sessions which can range from gentle, seated exercise such as Strength and Balance classes or seated Zumba to more active sessions such as Zumba Gold or seated cricket. This can make your village hall a hub for physical activity and generate income for the hall by hosting sessions.
Active East Herts are the Community Sports Network (CSN) for East Hertfordshire. We work directly with the council to deliver a sports development service, ensuring increased, inclusive opportunities for physical activity and exercise are available across East Hertfordshire.
In addition, we also work on specific projects on a collaborative approach with the shared aim of increased opportunity for a wide audience. For example, we have partnered with East Herts Council, the Bishops Stortford Community Centres Trust, Age Concern, Clarion Housing and Havers Church to put on a programme of activity in the Havers estate in Bishops Stortford. The activities will focus on providing opportunities for older adults who are feeling isolated and lonely to attend a session like Movement with Music where they can benefit from physical activity but also from an opportunity for social interaction.
Active East Herts What's On information 
Active East Herts in Watton at Stone
Contact information – Adam Howard, Sports Events and Project Officer:
adam.howard@activeinthecommunity.org.uk
---
Specialises in protecting Village Halls, Parish Halls and Community Buildings. 
Our primary product – VillageGuard – was designed in collaboration with Aviva, the UK's largest insurer, using feedback from Trustees and community groups. It provides all necessary protections at rates typically lower than other providers.
In addition, VillageGuard provides FREE Defibrillator cover up to £5,000 with NO EXCESS.
To protect Trustees from potential personal liability in the case of underinsurance, we provide a Property Rebuild Assessment report. This highly detailed report gives separate rebuild values for all buildings and assets, with and without VAT, as well as rebuild times to help Halls calculate loss of income. It's FREE to clients who opt for a Long-Term Undertaking with VillageGuard and heavily subsidised for those who don't.
Our claims process is friendly and efficient, with all but larger claims handled directly by personal claims handlers at our Boston Spa headquarters.
Call for details or quotes
Website
---
Community RePaint
Community RePaint can supply you with paint at affordable prices, a range of colours and in large quantities, for you to decorate your buildings!
Community RePaint has been in existence since 1993, and now there are over 70 schemes across the UK who seek to redistribute the many millions of litres of paint that become surplus and leftover each year from homes, paint manufacturers, painters and decorators, and DIY retail stores. This paint is reusable but would otherwise be wasted or thrown away. Community RePaint schemes collect this paint and make it available for individuals and families on a low income, local not-for-profit organisations, charities, sports clubs, faith groups and a variety of other community based groups. Most schemes have a wide range of domestic paint available.
Read more about Community RePaint
---
Cameo Curtains
Established in 1991, Cameo Curtains is a manufacturer, supplier and installer of stage curtains, large window drapes and tracks. We have supplied and installed in village halls, schools, churches, theaters, schools, colleges, hotels and venues throughout the UK.
We aim to provide a friendly professional service and deliver stunning, high quality curtains every time. We offer free site visits to discuss requirements and take measurements so that we're able to provide an accurate quotation. We only use high quality, fire-retardant, durable materials and heavy duty fixings to ensure curtains look stunning and last for years.
Find Out More
---
Defibrillators Store
Sudden Cardiac Arrest (SCA) is a leading cause of premature death in the UK. There are approx 60,000 Sudden Cardiac Arrests in the UK each year
Every minute that passes , chance of survival decreases by 10%. Where a defibrillator is used within 3 minutes, survival rates increase to as high as 74%.
Defibrillators are simple to use with audible instructions and visual prompts. No training is
needed. Housing a defibrillator outside in a Defib Store cabinet ensures your defibrillator is accessible
24 hours a day, 7 days a week, 365 days a year.
Defibrillator and Defib Store cabinet available
£1,095
Download the Defib Store's Leaflet
Read More about Sudden Cardiac Arrest and Defib Store Offers
---
PAT Testing Training

Quick Test can supply all your PAT testing needs
Whether you need a PAT testing training course, a PAT tester, PAT testing labels and adaptors or calibration, Quick Test can organise it for you.
PAT testing in house is cost effective and can be carried out when it suits your business or organisation. PAT testing doesn't have to be costly or disruptive. Portable appliance testing is easy with Quick Test.
Read More about PAT Testing Training
Read More about PAT Testing Equipment
---
Woolly Shepherd
At the Woolly Shepherd, we produce sustainable acoustic solutions from natural fibres. Our products enhance your environment, reducing background noise and improving speech intelligibility, thereby creating a more productive and pleasant space.
We provide high performance, professionally tested products at competitive prices. These are delivered with remarkable flexibility in design and exemplary levels of customer service.
When you work with us, you can be confident that you are working with the industry leader in imaginative, ecological design.
We are affiliate members of the Institute of Acoustics and as such adhere to the IOA's code of conduct.
What We Offer
Complete assessment to installation – A lot of the inquiries that we receive are from people within companies and organisations that have seen our clouds somewhere and want to install them in one of their rooms. Therefore we offer potential customers of this nature the choice of a remote assessment or a paid onsite survey to ensure that the appropriate level of treatment is used and that it is positioned correctly in the room.
Assessment and supply – Should you prefer to install your own room treatment, we can provide you with recommendations on quantities and support and guidance on correct placement.
Supply – If you already have an acoustic report and recommendations from a qualified acoustic engineer, we are very happy to supply you with the products of your choice along with fixings and complete installation and aftercare guidance. We can also, at our discretion, provide your acoustic engineer/professional with a full test report.
Find Out More
---
Booking Spaces
Booking spaces is somewhere for you to freely browse, book, and review those lovely little spaces near and around you. Whether it's a village hall, church or just a public space, it will be on here and ready for you at an affordable price!
Find Out More
---
Norris & Fishers Specialist Insurance Brokers
Download Norris & Fishers Specialist Insurance Brokers for Village Halls and Community Buildings
---
Stanhope Wilkinson Association
Download Stanhope Wilkinson Association Information Sheet
---
Hallmaster Online Booking & Invoicing 
Hallmaster is delighted to be in Partnership with ACRE again this year.
'Hallmaster is a complete Online Booking and Invoice Management System designed specifically for Village Halls and similar venues.
Download Hallmaster Leaflet General
Download Hallmaster MultiVenue
---
Notice Boards, Playground signs, Plaques, Way Markers, Banners & Temporary Signs
Arien Signs Website
---
The Village Hall Wedding Company – Promote your Village Hall and raise funds 
The Village Hall Wedding Company is a new online directory to promote village halls for use as wedding celebration venues. It will also be a blog and social media platform enabling couples looking for a wedding venue to discover and make contact with Village Halls and local wedding suppliers and services. It will be fully optimised for the wedding industry with links from already popular wedding publications and blogs. As well as the inspirational blog and social media activity we will engage the wedding media and local and national press to raise the profile of Village Halls as venues for wedding celebrations.
Each Village Hall will have its own page on the website and on each page there will be a listing of local services and suppliers, eg. caterers, equipment hire, florists, entertainers, photographers, B&Bs and more. Advertisers will pay to be listed.
The website is free for Halls and we will donate 10% of the revenue from each Hall page to that Hall. There is no commitment required from the Village Halls. We will remove a hall page if the Hall requires. The Village Hall can also let us know if they prefer not to have certain suppliers listed.
We are currently developing the website which should be live in one to two months. Village Halls wishing to join and promote themselves as venues for wedding receptions can enter their details on the form at www.villagehallweddingcompany.co.uk. This sign up form for Village halls is now live, so do sign up if you would like to be included when the website launches.
Michelle Dibb
Email
Telephone
Visit Website
---
Music & Sounds
Please see below some prices of services offered as a guide for Village Halls.
Hearing Loop System £1000
A/V Projector System £1500-£2000
A/V Projector with 5.1 Surround Sound System £4000-£5500
Please see the contact details below for more information
Music and Sounds
Mobile
Email
Website
---
LumaxLed
For information on low cost LED lighting please contact
Darren Woodhouse
Telephone
Fax
Website
Email
Unit 10, Crown Trading Centre, Clayton Road, Hayes, Middlesex. UB3 1DU.